It was understandably easy to miss that anything good happened in 2021, but there were some initiatives that we should take the time to recognise and celebrate. So as this year draws to a close, let's look back with our glasses half full and rose-coloured glasses firmly affixed.
Get a wiggle on!
You might already know this if you run with the pre-school crowd, but there were exciting developments in the world of children's entertainment this year.
The Wiggles added four new members to create better a representation of genders and cultures. Tsehay Hawkins (red), Evie Ferris (blue), Kelly Hamilton (yellow) and John Pearce (purple) all jumped into the Big Red Car this year. Ferris has also put a new spin of the Wiggle uniform — her ballet experience allows her twirl in beautiful blue pointe shoes!
And if you feel in the mood to wiggle to a good tune, check out the amazing mashup of 'Fruit Salad' and Tame Impala's 'Elephant' for Triple J's Like a Version that the Wiggles performed earlier this year on YouTube.
In the US, a Korean-American muppet, Ji-Young, took residence at Sesame Street. Ji-Young is the first Asian-American muppet to appear on the show. She enjoys playing guitar and riding on her skateboard. It's a destined match: one meaning of the word ji in Korean is sesame.
Book your summer
With many of us spending more time at home, book sales have spiked last year in Australia and overseas, and this year there were many great offerings to choose from.
There were of course titles from established names in the literary scene like Joan Didion, Tony Birch and Deborah Levy — all worth a read and a chat with a mate over coffee.
There were also powerful nonfiction debuts published this year. Veronica Gorrie doesn't waste a word with her memoir, Black and Blue, as with humour and compassion Gorrie talks about her family, the racism and sexism she has experienced, and seeking justice inside and outside the police force. And in The Shape of Sound Fiona Murphy shares her insights in a series of essays about growing up Deaf, sound/silence and the body, and connecting to Deaf culture.
While the romance genre has always had a solid market in the US, here in Australia it seems like more and more romance novels are flying off bookstore shelves (or onto e-readers).
There was a glut of wonderful contemporary novels in 2021, including Seven Days in June (Tia Williams), Act Your Age Eve Brown (Talia Hibbert) and The Heart Principle (Helen Hoang), which carried the readers gently along the intricacies of family ties and trauma, disability and chronic illness, consent and romance.
And in Aus lit, (while not technically in the romance genre), we were swept up in the epic, historical love stories of Hannah Kent's Devotion and Anita Heiss' Bila Yarrudhanggalangdhuray, both set in the 19th century.
Finally, fans of poetry this year were treated to the latest collection from Maxine Beneba Clarke since 2016, How Decent Folk Behave, and two vivid debut collections from Thuy On and Evelyn Araluen in Turbulence and Dropbear.
Holiday reading sorted!
Access for all. Period.
Period poverty is an ongoing issue for many menstruators all over the world, including Australia. The good news is there have been continued efforts this year to help combat this issue.
A 22-year-old RMIT business student, Mursal Azadzoi, learned about how period poverty in Kirbati negatively impacted young menstruators, who would have to miss school once a month while on their period.
So Azadzoi designed the 'Nana pad', a reusable, biodegradable pad made from materials available in Kiribati. The fibres used in the pad are finely shredded banana stems, which are otherwise commercially unviable. Azadzoi won funds for the idea through a kickstarter challenge, but ultimately, she plans for the business to be owned and operated by Kiribatians.
In Tasmania, the Undies Project will allow 250 Tasmanians on a low income to sign up for five pairs of free reusable underwear. This trial is a first step to help alleviate the additional financial burden on menstruators in the state.
On the legislative side of things, South Australia and New South Wales committed to making period products freely available in public schools this year. And across the Tasman, New Zealand made a similar move.
In the US, several states have required period products be freely available in schools, universities and shelters. The city of Ann Abor will be first in the US to mandate stocking free menstrual products in public bathrooms. Bloody brilliant.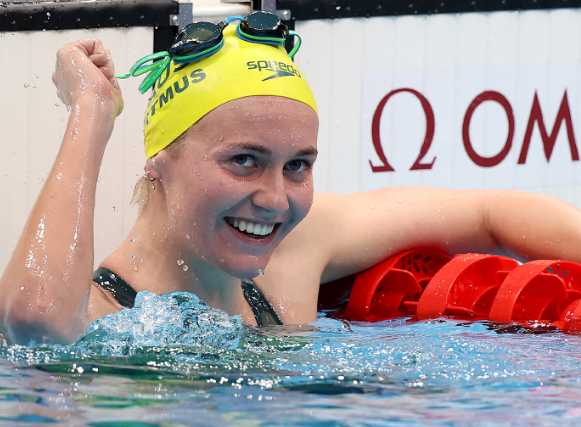 Australia kicking goals
This was a year of highlights for Australian sport. Go team!
After a year delay, Tokyo was able to hold the Olympics and Paralympics. (We talked about Japan's great work with the 2020 Olympic emblems and mascots in an earlier 47 article.)
The Australian men's basketball team won the bronze medal in the Olympics, which was the first time the team has ever won an Olympic medal and a win for Australian basketball overall.
As usual, Australian swimming was well represented at the Tokyo Olympics. Ariarne Titmus won the 200m and 400m freestyle, breaking the Olympic record in the 200m race. All of Australia shared in the exuberant, fence-shaking joy of Ariana Titmus' coach as he celebrated Titmus' 400m win.
Our world number one tennis champions Dylan Alcott and Ash Barty achieved significant feats this year.
Alcott was the first man to ever complete a Golden Slam (winning four major World Opens and Olympic or Paralympic gold in the same year) and will retire next year on a career high.
Meanwhile, Barty won the Wimbledon Open (during NAIDOC week!), which was a lifelong dream of hers. Barty was the first Australian woman to win the Wimbledon Open since tennis legend Evonne Goolagong won the titles in 1971 and 1980.
It was the best of times, it was the worst of times…
While this was a challenging year for many, it has also shown us the depth of our own resilience and ingenuity.
At Pesel & Carr we hope you found some reasons for joy this year and that you have a happy holiday season! We will be back next year.

A final word from our Culture Manager…
Whether we were sitting beside you in the home office or sauntering around cities, animals were right alongside humans all throughout 2021.
Kangaroos hopped on over into Canberra. They minded the stop signs, of course!
And a colony of dormice who live next to the M1 in England for five years were able to travel safely across two tiny bridges when they awoke from their hibernation. But in case the dormice of Lancashire were going to be jealous, they are set to have a bridge of their own next year.
And it's not just on the streets, animals are taking over the internet too! While cats might think they have cornered the market, dogs have more influence than you might think.
Though, to my knowledge, I am the foremost canine columnist, there is perhaps another even more famous dog than I who rose to prominence on TikTok. Noodle the pug can forecast the type of day humans will have by whether he stands up in morning — standing means it's a "bones" day or flopping back down means it's a "no bones" day. "Bones" days are for taking risks and treating yourself, while on "no bones" days you should take time to reflect. 4.6 million people follow his daily updates. Talk about the power of the dog!
Truly, there are no limits to what animals can do.